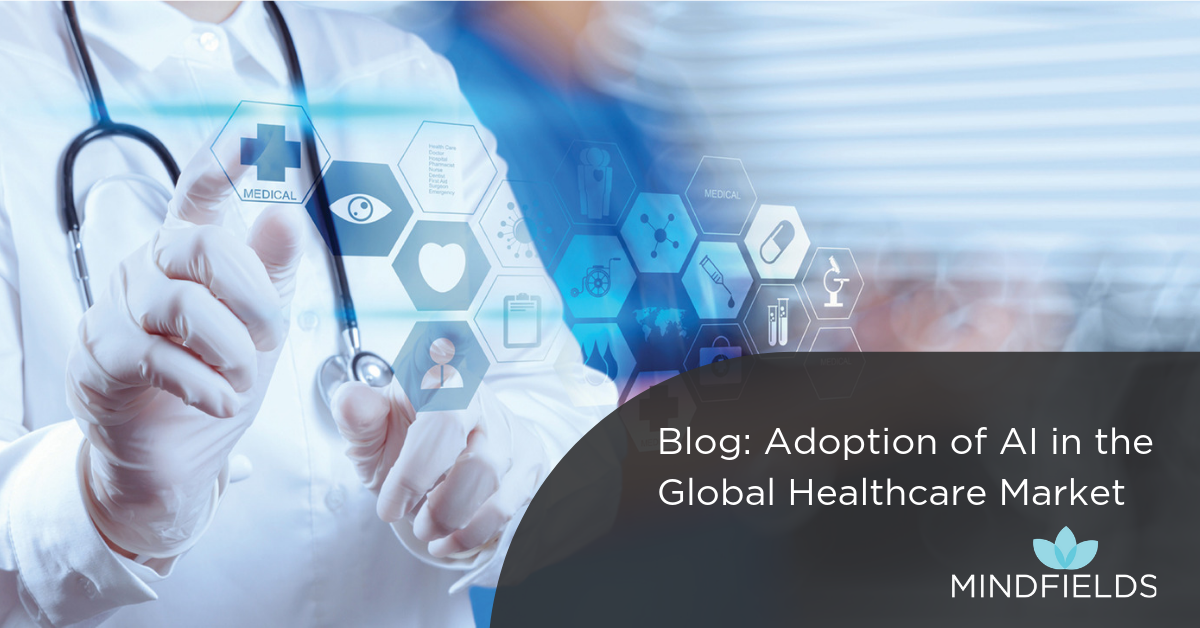 Topic: Artificial Intelligence, HealthCare, Blog
Adoption of Artificial Intelligence in the Global Healthcare Market
Like other industries, healthcare is witnessing a shift to consumerisation, pushing payers and providers to focus on value-based care and improve the health outcomes. Across various geographies, advanced tools like AI are being implemented to address varied stakeholders' challenges and augment care provision.

In most economies, irrespective of the stages of development, the cost and demand for care is rising, thereby increasing the need for digital technologies. It becomes imperative to provide seamless and integrated care by leveraging the benefits of the connected ecosystem, where patients, providers, payers and other stakeholders are increasingly adopting technology to simplify the processes.

Advanced and developed economies like US, Germany, Canada, and UK spend a huge proportion of GDP on healthcare, however, the adoption of proven technologies like AI is yet to gain importance in their health systems. Though US is the highest spender on healthcare globally, as a percentage of its GDP, it faces challenges like rising cost of healthcare provision, shortage of primary care professionals, poor-quality outcome and lack of coverage for a high percentage of the population. US spends two and a half times higher than the average of Organisation for Economic Co-operation and Development (OECD) countries on healthcare, with significant proportion being out of pocket or voluntary coverage. It also has the highest rates of medication errors compared to other OECD countries. The average insurance subscription in US is about USD 400 a month and significant amount of healthcare service contributions are co-payments/out of pocket share.

Recently, the US market has seen higher adoption of AI to decrease the cost of care and improve the outcomes. This was driven by regulatory push for value-based care through various legislations, which forced the providers to adopt EHR platforms. The effective implementation of EHR can act as a foundation for AI to leverage the medical data. Healthcare, compared to other industries, will see a greater potential for AI, addressing many challenges relating to care provision, diagnostics, and drug discovery.

In US, AI applications and platforms which have been put to practical use, especially in hospital setting, have resulted in tangible benefits like early diagnosis of conditions, operational improvements like reduction of wait time and improving care provision workflow, and targeted therapy administration. It is expected that, within the next two years, about 35% of healthcare organizations plan to adopt AI to improve patient experience. Arterys, which helps diagnose heart problems in 15 seconds, was approved by Food and Drug Administration (FDA) and has already been put to use with its artificial self-learning network across multiple cases. Mayo Clinic has collaborated with health tech start-ups like Tempus and AliveCor.

Tempus helps Mayo Clinic offer customized treatment options using genomic based therapy to treat conditions like cancer. AliveCor, with its AI platform helps Mayo Clinic in early detection of Cardiac Arrythmia. Silicon Valley based El Camino Hospital has drastically reduced the fall rate of patients by analyzing the likelihood of falls using machine learning.

In the last couple of years, we have seen numerous start-ups entering the healthcare sector to provide AI solutions using their machine learning and big data analytics capabilities, and a number of these startups getting acquired by bigger and more established companies. Google acquired DeepMind in 2014 to compete with major tech companies and gain a stronghold of deep learning in healthcare. Another tech giant, Intel acquired Nervana Systems, a deep learning start-up in 2016.

Overall, AI adoption is estimated to increase in the future, with expected increase in the number of acquisitions related to AI in healthcare. The enhanced functionalities of AI will revolutionize the way healthcare organizations operate.
At Mindfields, we have been driving innovation and excellence by leveraging disrupting technologies to optimise business processes that enable our clients to 'Grow for tomorrow'. To learn more about applications of Artificial Intelligence in Healthcare and the technology landscape, download Mindfields' AI in Healthcare report here.