about the webinaR
This webinar provided insights into integration of Automation and Analytics. It explored how to 'Automate Insights and Actions' using RPA for enhancing the Analytics journey.

We introduced the decision maturity matrix that brings together information, insights and automation to improve the quality and effectiveness of decisions within processes. We also shared some examples and use cases of initiatives bringing the decision maturity matrix to life and how it has enabled the improvement across various parts of the business.
In this webinar we discussed:
Automation and Analytics journey

Introduction to Performance Improvement with Automation

Integration of Automation and Analytics

Live case study and use cases
speakers

Harpreet Khalsa
Manager, Enterprise Analytics and Performance Improvement, Edith Cowan University
Harpreet Khalsa is a seasoned Analytics / Performance Improvement professional and has a career of about 20 years in a variety of industries including Defence, Telecommunications, Utilities, Mining and Higher Education. He has worked with ECU for 6+ years and has been pivotal in creating the culture of 'insights driven decision making', which has led to significant improvements in planning and operations within various parts of the University. His key focus currently is how the University can create an effective collaboration between 'Human and digital workforce' and have a positive impact on the student experience and operating margins.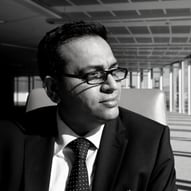 Mohit Sharma
Managing Director, Mindfields
Mohit has over 20 years of experience working in Strategy, Corporate Finance, and Risk Management Solutions for Deloitte, PwC, and EY. He has authored and published one of the first and most comprehensive research on Robotics and Process Automation. He provides advisory services to leading global financial and non-financial organisations in US, Australia, UK, and India on their journey for Automation and Artificial Intelligence. Mohit loves cricket and food, in that order.